Nestled in a quaint part of the city along the Loup river, you'll find the first golf course built in Columbus. Located in historic Pawnee Park, Van Berg Golf Course was built in 1928 on property donated by Marion Van Berg, holder of horse racing's most career wins by an owner.

The golf course has well conditioned fairways with small, faster than average greens. The 5800 yard layout makes Van Berg GC the perfect place for beginners, juniors, super seniors, and anyone else wanting to get in a quick nine.

Van Berg GC also plays host to a Monday Men's League as well as a Thursday evening "Girls Night Out" golf league. You can find more information relating to these and other leagues by going to the top of this page and looking under the "Leagues" tab.

Kids 15 and under play free golf when accompanied by a paying adult.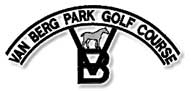 ---
NEW SPORT
FOOTGOLF at VANBERG !!!
How to Play FootGolf
The main goal of FootGolf is similar to the main goal of golf: to get the ball (in this case a standard #5 size soccer ball) from the teeing ground into the hole (21 inches in diameter) in the least number of kicks possible.
Basic Rules:
Out of Bounds: OB is defined by white stakes. If your ball goes OB, place the ball within 2 steps from where the ball crossed between the white stakes, and receive a one-stroke penalty.
To tee off, you may kick your ball from a position up to two yards behind the tee markers at the designated teeing area. Make sure your kick will not interfere with other players or golfers.
The ball must be played in a single movement. You are not allowed to push the ball with the top or bottom of your foot.
Wait to play your next shot until the ball has completely come to rest. It is not legal to stop the ball from rolling from the wind.
Play the ball where it lies. You are not allowed to move the ball or remove jammed objects. Exception: You may mark the spot and lift the ball when it may obstruct another player's kick or ball in any way.
Do not kick a ball from the golf greens. If you ball comes to rest on a golf green, move it to the nearest spot off the green to kick. No penalty.
---
COLUMBUS FOOTGOLF
| | |
| --- | --- |
| 9 Holes | $10 |
| Juniors (15 and under ) | $5 |
| Replay | $5 |
| Ball Rental | $3 |

..
…
… …